Ellen Gaffney's picture book WINGS FOR A FLOWER tells a story of disability and freedom. I have a friend so close he is like my brother. He has never walked and from the time he was a toddler he got around in a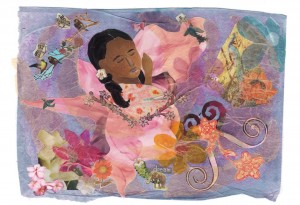 wheelchair.  I had not thought about what a person would do if they couldn't get a wheel chair which I've learned is true for 100 million people around the world. Ellen tells the story of a child in India named Lotus who becomes ill and loses her ability to walk. She does not leave her hut from that point.   She had the great fortune of meeting a doctor who brought her a chair with wheels. He lifted Lotus into the chair and told her to put her hands on the wheel. "They did not need to say more," Ellen Gannfey writes.  Gannfey tells the story with spare words and cut paper illustrations, "each element created individually." I was fascinated by these illustrations. I wrote to ask her to tell the story of this book.
1. How did you come to know the story of Lotus that you tell in WINGS FOR A FLOWER? You write that this is the nonfiction story of a true girl, Lotus.
I heard the story of Lotus Blossom directly from the founder of the Free Wheelchair Mission, Don Schoendorfer. Don and his wife Laurie are long-time personal friends of my husband and mine. Don had a career in medical products before deciding about 12 years ago that it was time to address a problem that had troubled him for decades: disabled people crawling on the ground in developing countries. In the late 1970's Don and his wife had traveled to Morocco where they saw a woman on a city street begging. She was on the ground because she couldn't walk and she was very poor. They looked around for a hint about what to do: should they try to help her? No one else was doing anything, so they continued on their way, but the troubling image stayed with Don. Decades later, in 2002 he set out to design a very low-cost wheelchair that would be appropriate for the terrain of developing countries and could be given away – free to the recipient. When Don had 4 prototype chairs ready to go, handmade in his garage of a resin lawn chair, mountain bike tires, a sturdy metal frame and some front casters, he invited himself and his chairs to join a medical mission trip to India. Lotus Blossom received one of those chairs. In 2005 Don told me about Lotus. It was a story filled with much emotion: the helplessness of her family when she became ill, the isolation her disability brought, the joy Lotus felt when she got her wheelchair, and her hope and determination. I began writing the story for my book almost as soon as I heard it.
2. Tell us about your artwork. What's your process to create the illustrations for WINGS FOR A FLOWER? Is there a link between Lotus' story and your technique in telling the story visually?           The illustrations are made of cut/torn paper of all kinds – tissue, craft paper, magazines, catalogues – pretty much anything that evokes "India" for me. In 2005 I spent time with Lotus and her family in their neighborhood in Chennai, India. I knew I wanted to try to convey the intensity of the colors and sounds and smells in my book but I wasn't sure how I would do that. I took Ilse Plume's children's book illustration course at the Museum School in Boston and I used collage for an early assignment. I loved the process of finding papers, handling them, and 'building' an image. Most importantly, I felt the medium was really well suited to the story: the patterns and colors from clothing catalogues worked well for the women's saris, and colored tissue paper was great for enhancing the images in a lot of different ways. And of course, little items like chickens and bananas and pots were fun, realistic things I could include to add depth to the scenes. My first illustrations were trial-and-error: sometimes I'd want to add something in the background after the foreground was already done – oops. That meant laying the background in around the part of the picture that was already done, or starting over… Eventually I developed a technique of drawing the illustration, tracing it onto tracing paper and planning the construction of the image before gluing anything down, which worked much better. Many people really like the 'dream' illustration after Lotus gets her chair. It's less realistic and more loose than most of the other pictures. It was fun creating that dreamy feeling. The big street scene that shows time passing was also a lot of fun, but much more difficult. It's a two-page spread with daytime, nighttime, rain, and lots of people. Each element was created individually: each person, building, window, tree, vehicle etc. Then the whole scene was assembled like a puzzle, and finally it was all glued down. It took over two weeks working every day.
3. Are there many people like Lotus who can't walk and have no way to be mobile?
Unfortunately, yes. It's estimated that about 100 million people are in need of wheelchairs. There are so many dimensions to the problem of being both disabled and very poor it can seem overwhelming: inadequate health care, disease, conflict (wars, landmines), social intolerance and discrimination, and more. The wheelchair can't address all of them, but it can provide more dignity to that person who can't walk and ease the burden on his or her family.
The Free Wheelchair Mission's distribution partners are the front-line workers, identifying people who need wheelchairs, assembling the chairs and giving them away without discrimination. They also educate people in their home countries about disability and advocate for services for and inclusion of disabled members of their communities. What they're able to accomplish with scarce resources and hugely generous hearts is nothing short of amazing.