My article was first opublished by  The Pirate Tree: Social Justice and Children's Literature
The group Reforma, an American Library Association affiliate, and IBBY, the International Board of Books for Young People, have, at their core, the driving belief that every child has the right to read.
Three Pirate Tree reviewers, Nancy Bo Flood, Lyn Miller-Lachmann and I spoke at the recent IBBY regional conference in New York City. Among our colleagues was Oralia Garza de Cortes, past president of Reforma, who has been working on a Reforma project with Patsy Aldano to bring books to Central American children who crossed the border into Texas, fleeing violence in their home countries.   They have been held at detention centers and later given support by Catholic Charities of the Rio Grande Valley in McAllen, Texas, the town to which Garcia and Aldano traveled.  I want to share the story we learned from Oralia Garcia de Cortes and Patsy Aldano.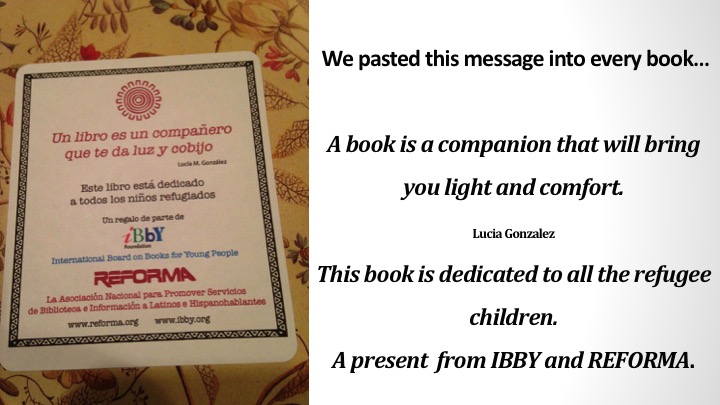 Reforma received a grant from IBBY's  "Children in Crisis" project to purchase Spanish-language books for child refugees.  The parents of the children had paid "coyotes" to guide them across the border. Aldano said about the children, "These are refugees. They will die if they stay where they live." And when the children arrived at the Texas border, they told the guards they wanted asylum so that they might petition to gain refugee status. They are mostly from Honduras, the country with the highest homicide rate in the world, Reforma reports, El Salvador, and Guatemala.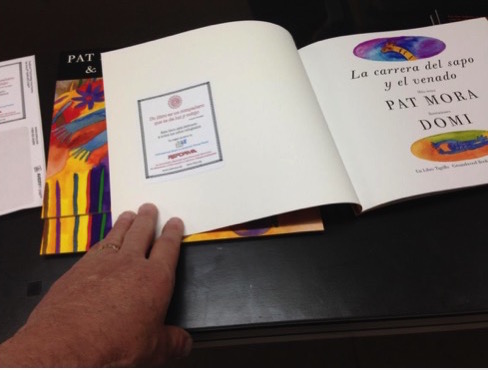 Each of the books donated to the children in detention held a book plate with the words, "A book is a companion that will bring you light and comfort." 186,233 children have crossed into Texas since 2009.   The detention centers have since released many children, some with their mothers. And many keep coming. When children leave detention they have very few resources, and Catholic Charities of Rio Grande Valley has been instrumental in providing basic supplies. Reforma and Catholic Charities of the Rio Grand Valley are organizations in extreme need of donations and resources. Reforma offers this link to see more about the project and to make a donation. http://refugeechildren.wix.com/refugee-children
For children making their way on buses traveling in search of family members in the U.S.,  Reforma has created a library card to travel. It says, "Please welcome these children to your library."
Barry Lopez knows this story.  He wrote these words in his classic book, Crow and Weasel: "Sometimes a person needs a story more than food to stay alive."